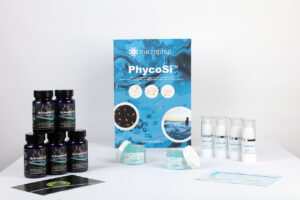 Today, it is estimated between 200,000 and 1 million species of microalgae on earth and 35,000 have been identified in international strain libraries. Among them, less than 10 microalgae are cultivated at large scale in standard production systems. The company Microphyt have successfully cultivated close to 50 different strains in its laboratory, and more than fifteen of these microalgae are regularly produced at large scale.  This represents an important source of novel active ingredients for cosmetic and nutraceutical markets and provides a portfolio of more than 35 potentiel ingredients in development. Discover in this article an overview of the latest innovative ingredients developed from adaptative microalgae and their benefits.
AN EXCLUSIVE TECHNOLOGY
CAMARGUE is a unique and proprietary technology patented by Microphyt, based on the hydro-biomimetic principle. Mimicking nature's most efficient growth conditions, it takes advantage of the full biological potential of microalgae while ensuring a high level of control. A CAMARGUE-based demonstration facility is already in operation at Microphyt and has positioned the company as a global leader capable of producing the broadest diversity of microalgae species at industrial scale. This platform leverages the amazing biodiversity of microalgae, and their unique bioactives which offer numerous solutions for nutrition and wellbeing.
The aim of SCALE project is to deploy this technology into industrial flagship plant (TRL8) able to produce each year more than 100 tons of high-value ingredients from microalgae.
It is planned that SCALE project will deliver at industrial stage about 8 to 10 high value added ingredients, some of them currently being tested by the project partners and other still in development for food, food supplement, feed and cosmetics applications.
CUTTING EDGE NATURAL INGREDIENTS
Regarding their "novel nutrition" portfolio, Microphyt has recently received the results of the first fully completed clinical trial on human validating the benefits of their ingredient GamePhytTM on many parameters of the cognitive function among experienced e-gamers. Two other clinical studies are currently on-going with BrainPhyt™ ingredient on elderly population. Results are expected for mid-2023.
Brainphyt TM is a natural bioactive compound derived from the microalgae Phaeodactylum tricornutum, produced in Microphyt's facilities, in an environmentally controlled eco-friendly photobioreactors free of GMO, pollutants, or pesticides. Its unique and patented composition is the product of 4 years of systematic research, vigorous testing, and product innovation that has been approved by the Food and Drug Administration in the United States of America in 2019. This unique ingredient represents a major breakthrough for the food supplement market, with proven key benefits to significantly improve cognitive performance such as short and long-term memory, enhance learning and also to support the reduction of brain cells' oxidative stress. They efficacy of BrainPhyt™ has been demonstrated through 7 preclinical studies so far and two human clinical trials are currently running.
GamePhyt TM is the first bioactive complex which is 100% natural and has been specifically designed for, and clinically studied on experienced e-gamers. This unique and patented ingredient is a smart combination of a microalgae extract (Phaeodactylum tricornutum) and a botanical extract (Guarana) that lead to a means of boosting e-gamers' performance and skills. This patented and unique ingredient has been studied on over 60 experienced e-gamers as part of a double-blind, randomized and placebo-controlled clinical trial with an improvement of cognitive performance after a single dose and after 30-day supplementation. GamePhyt™ has shown to significantly increase focus, alertness, accuracy and reaction time; improves decision making and processing speed; reduces mental fatigue and support enhancement of sleep quality and visual comfort. All of this, with no side effects. GamePhyt™ has officially been launched during the SUPPLY SIDE WEST 2022 trade show in Las Vegas (November 2022).
For advanced beauty, 3 new products were launched recently: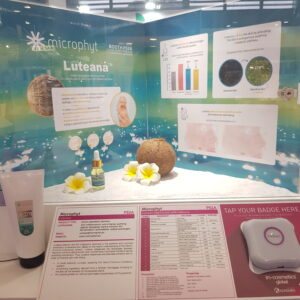 Based on its research on cognitive and systemic health, Microphyt has developed an innovative approach to sensitive skin using a Tahitian golden microalgae species, Tisochrysis lutea, which has an extraordinary ability to adapt since it is considered sensitive yet it lives in a stressful environment, i.e. hot waters with a high salt and acidity content. Based on its unique sustainable technology, Microphyt developed Luteana™, a precious oily extract containing powerful compounds such as omega-3 fatty acids, sterols and xanthophylls, namely fucoxanthin, to rebalance and lastingly relieve sensitive skin.
Adopting a biomimetic approach, Microphyt was inspired by a resilient and adaptogen red microalgae, Porphyridium cruentum, capable of protecting itself to survive in extreme environments for millions of years. By exploring the defense mechanisms of red microalgae elaborated millions years ago and shared with humans, Microphyt has designed Renouvellance™, an innovative active ingredient able to activate the skin's natural defenses response and shield cells to better face external stressors. Thus, the complexion is evened out and the skin has a healthier appearance. Obtained thanks to Microphyt's sustainable patented technology, Renouvellance™ contains a high content in 2 synergic compounds: phycoerythrin, a pink antioxidant pigment able to absorb light energy and boost natural defenses & exopolysaccharides, a marine polymer able to chelate heavy metal and maintain cell's structure.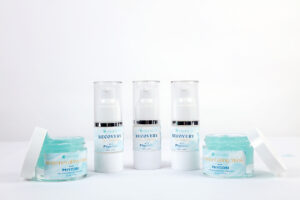 Always looking for more sustainable solutions, Microphyt has succeeded in developing a process for extracting the silicium contained in a manufacturing co-product and thus recycling a diatom extract intended for disposal. This new upcycled bioactive ingredient launched in November 2022 contains bioavailable marine silicium that show a two-step actions: 1) it deeply recharges and restructure the dermis. Thus, the dermis density is increased and the skin elasticity and firmness are improved;2) it protects and restores skin at the surface by improving the skin exfoliation and smoothing the cutaneous microrelief. PhycoSi™ stands out as a fundamental skin reviver.
PhycoAge™ is a cutting-edge bioactive compound sourced from microalgae through state-of-the-art photobioreactors in an environmentally controlled facility. This unique and patented ingredient is the result of extensive research, innovation, and rigorous testing, culminating in a revolutionary breakthrough for the skincare industry. PhycoAge™ has been meticulously formulated to combat the signs of aging, offering remarkable benefits such as enhanced skin elasticity, reduced appearance of wrinkles and fine lines, and a radiant complexion. With its natural, eco-friendly, and sustainable production process, PhycoAge™ embodies Microphyt's commitment to delivering effective, safe, and environmentally conscious solutions.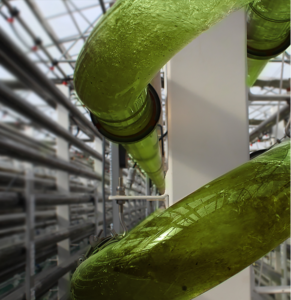 Discover more information about these ingredients on the website https://microphyt.eu/ and meet Microphyt's team at AlgaEurope Conference in Rome, 13-15th December 2022: In 2023, they will participate in CosmetAgora in Paris, 10-11th January 2023 Booth 46 and "Sports And Active Nutrition Summit USA 2023" in San Diego, 15-17th February as Gold Sponsor to present GamePhyt product.