The SCALE project proudly unveiled its first official video at the inaugural EU Algae Awareness Summit in Paris on October 5th. This unprecedented event serves as a platform to enlighten EU Member States' administrations and the general public about the various benefits that algae can contribute to national and regional economies, as well as to the restoration of our oceans. The three-day summit witnessed the active participation of project coordinator Microphyt, who engaged in insightful discussions on the critical role of microalgae in addressing global challenges.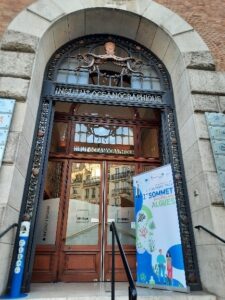 The project's official video, a dynamic motion design presentation, offers a comprehensive overview of the SCALE project, highlighting its pivotal role in advancing microalgae development in Europe. The video showcases the Scale project's applications, impacts, and the collaborative consortium at the heart of its success. It was published on Scale's website and social media and has also been continuously looping on screens at the EU Algae Summit.
At the heart of the SCALE project is a visionary approach to tackle challenges posed by climate change and rapid population growth. Recognizing the need for sustainable ingredient production to meet the demands of consumers, SCALE looks to the oceans for innovative solutions. Microalgae, a highly promising source of aquatic biomass, presents itself as a key player in addressing these challenges, finding applications in nutrition, well-being, and beyond.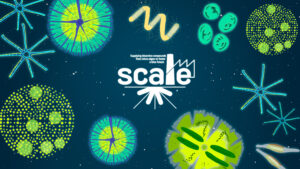 However, despite their immense potential, only a fraction of microalgae species is currently produced globally. Enter the cutting-edge CAMARGUE photobioreactor technology, developed and patented by Microphyt. This technology propels the SCALE project toward large-scale production of a diverse range of microalgae species, opening up new possibilities for applications in food, food supplements, feed, and cosmetics.
The video showcases how the SCALE project aims to build and operate a flagship plant, pioneering the large-scale production of high-nutritional-value ingredients derived from untapped microalgae diversity. This revolutionary step is made possible by the transfer of CAMARGUE photobioreactor technology from demonstration to an industrial plant, signaling a leap forward in the sustainable production of diverse ingredients.
Supported by the  BBI JU program, the SCALE project brings together a consortium of 11 partners, forming an integrated value chain from microalgae production to end-use applications. The collaborative effort aims not only to diversify ingredients but also to achieve large-scale production, thereby addressing the pressing needs of a growing global population.
Interested by the project? Follow the SCALE project's LinkedIn page to stay tuned to its progress and receive updates on the latest developments.