On 22nd and 23rd of June SCALE brought its 11 European partners together in Baillargues, South of France, for their first General Assembly. This event was the opportunity for the consortium to present all the results of their work, such as the beginning of the construction of the plant with a dedicated visit, the launch of two bio-inspired cosmetic solutions, and the first clinical study results in food supplement.
CONSTRUCTION OF SCALE PLANT: THE WORK HAS BEGUN!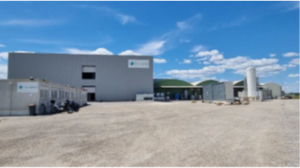 This flagship plant scale-up the microalgae production process from demonstration scale to Flagship industrial scale with an annual capacity production of more than 100 tons of high-value ingredients.
The plant will deliver large scale production of Microphyt's ingredients for the food, food supplements, feed and cosmetics sectors. Its construction began at Microphyt's facility in France in September 2021 and represents the first-of-its-kind fully-integrated microalgae biorefinery at an industrial scale.
The biorefinery aims to implement sustainable processes to convert microalgae biomasses into a variety of ingredients.
WORK IN PROGRESS
Over its first year, the efforts of the consortium were concentrated on the new plant design and start of the building. 3000m2 of the plant is now achieved with the creation of 15 new jobs. Microphyt worked closely together with Evolys and Sunti respectively for the design of LED-based lightening solution and the energy diagnosis to analyse the thermal and power demand of the extended site.
New microalgae-based ingredients have already been tested by the industrial partners for the targeted applications: Institut Paul Bocuse Research centre for food, Plameca for food supplements, Lallemand Animal Nutrition for feed and Chanel Perfume & Beauty for cosmetics.
On their side, Tecnalia and Nutrasteward started their evaluation of the life cycle sustainability assessment and regulatory frameworks respectively. B4C worked closely with Microphyt and all the partners to launch the visual identity of the project and its related media: website, Linkedin and Twitter accounts, flyer and poster. In order to reinforce the dissemination strategy, PNO started the identification of the relevant stakeholders within and around SCALE value chains.
The next steps will continue to deliver new microalgae & ingredients as well as accelerating the work programs on.
CUTTING EDGE NATURAL INGREDIENTS
Microphyt develops, produces and markets microalgae-based ingredients for Advanced Beauty and Novel Nutrition. Since the Kick-off of the project in June 2021, Microphyt has received the results of the first clinical study in Novel nutrition and launched 2 new products in Advanced Beauty: Luteana™ and Renouvellance™. Stay tuned for more information about these innovative ingredients !